Assistance alarm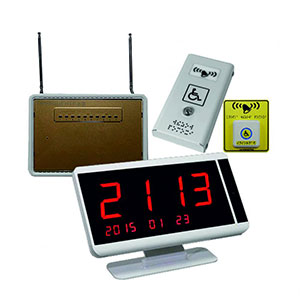 To provide access to the disabled people to the building or render assistance to them in inaccessible places one should use a simple and effective solution – an assistance alarm button. Tiflocentre Vertical renders a range of services on installation of its own system of such a type for social facilities (banks, hospitals, educational institutions, administration buildings, etc.). We suggest effective solutions for small administration buildings as well as for large multi-storey boarding houses, hotels and centers.
Wireless assistance alarm includes contrast tactile buttons with the Braille script and a signal receiver, available at the employee's.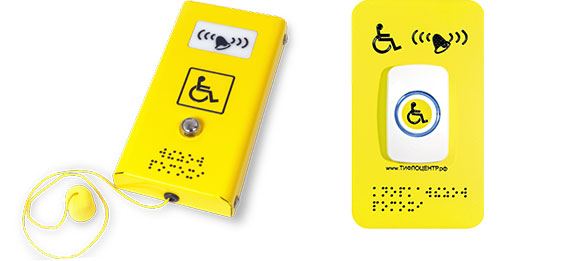 The devices are intended for people with limited mobility – disabled people, parents with little children and elderly people. The assistance alarm buttons are located at the entrance to the room or building to convey the signal to the personnel; they should also be installed indoors – in the bathrooms and lavatories of the hotels, health centers and boarding houses.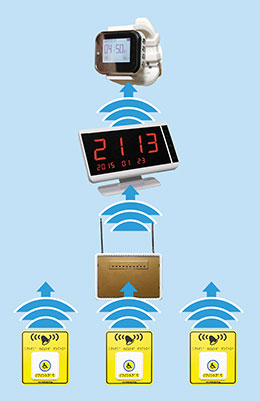 Household alarm calls can't be used due to the following reasons:
low interference protection of the devices and special installation of such buttons. They should be installed only on one side of the door – that is unsafe in case of emergencies;
impossible determination of the call direction by the personnel, when using two buttons, as similar signals from different rooms are applied;
no constant current supply in household alarms – generally, galvanic elements are used;
impossible power increase, no tactile and contrast markings;
low quality of the devices and short service life;
Mounting of special assistance alarm buttons doesn't require separate cable lines' taking. The systems are manufactured for all-weather conditions and may be used indoors as well as outdoors. Their housing elements are made of ABS-plastics, resistant to impact and mechanical damage. The protection index of the devices class complies with IP66 standard. The signals' reception is made through a special panel.