Universal informational terminals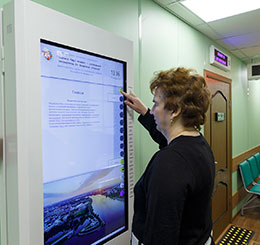 An informational terminal is an important informational device to arrange space for disabled people. Tiflocentre Vertical started development of specialized informational terminals in 2014. Before creation of own models our specialists examined foreign alternatives and had manufactured a personal series of terminals INFO-VERT for disabled people by the middle of 2015.
The devices have numerous unique advantages, making them accessible for all categories of disabled people:
Adaptive control panel (below) for wheel chair users and short people;
Installation of an induction loop for the hearing-impaired people;
A contrast operating mode and the one of the "Screen magnifier" for visually impaired people;
Anti-vandal steel case;
Available software with reading function in a synthetic voice;
Contrast external backlighting, used as a light beacon;
Tactile mention, equipped with the raised-point Braille script for totally blind people;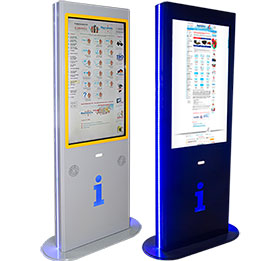 When developing informational terminals for disabled people, our company's specialists have tried to consider peculiarities of information perception by every category of people with limited mobility. A tactile-sensor terminal of company Vertical is a unique patented invention, adapted for all categories of disabled people. The large screen of 42 inches, is equipped with an infrared frame and has a MultiTouch function. It's important that any unprepared user can easily load the content into informational terminal.
This terminal is intended for use at any organization, rendering services to the population on a regular basis (banks, educational institutions, post office, trading centers, museums, etc.).