Tactile paving from the manufacturer
One of the leading manufacturing areas of Tiflocentre Vertical is manufacture of tactile paving according to the state standards. Special paving with volumetric tactile indicators on the surface provides free movement of visually impaired people in public places with high passability (hospitals, educational institutions, railway stations, post offices, parks, public transport stops, etc.). Tactile indicators "show" the movement direction to a blind person and warn of the obstacles on his way:
a "Cone" – an attention, danger and barrier zone,
a "Stripe" – a safe way,
a "Diagonal" – change of the movement route;
Our company manufactures a wide range of tactile paving from various materials for outdoor and indoor application.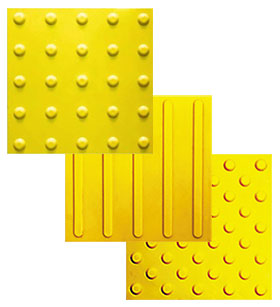 TACTILE POLYURETHANE PAVING
Mounted polyurethane tactile paving is intended to inform visually impaired people of indoor and outdoor movement. It is manufactured from qualitative bead polyurea. It has overall dimensions 300х300mm and surface with tactile indicators (tactile surface), complying with the existing national and international standards.
Main advantages:
Easy mounting. Polyurethane tile is mounted with adhesive without demounting of the old flooring;
universality – tactile paving is for outdoor and indoor application;
qualitative tactile effect – the best tactile rise is selected on paving for the blind and visually impaired people as well as for the wheel chair users, without making difficult their movement;
possible cleaning with cleaning agents;
TACTILE PVC PAVING
Tactile PVC paving (polyvinylchloride) is intended for indoor designation of a tactile way, has a tactile picture in compliance with the effective standards. It is mounted by sticking to the smooth surface (linoleum, ceramic granite and ceramic tile) with a two-component adhesive or a double-sided tape. It has dimensions of 300х300 mm and it has contrast color (yellow and black); tactile indicators' height is 4 mm.
Main advantages:
Easy mounting directly on the surface;
Wear resistance in case of heavy loads;
Anti-slip surface;
Possible cleaning with standard cleaning agents;
Suspension and orthopedic properties;
Injury prevention;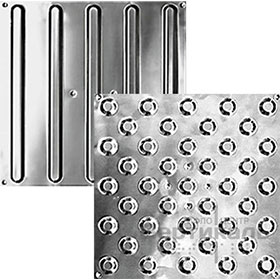 TACTILE POLYURETHANE PAVING
TACTILE METAL PAVING
Tactile metal paving is made of strong steel (AISI 304) and is intended for rooms with increased passability (airports, railway stations, trading centers) as well as for the ones with raised design standards. Particularly often this type of paving is applied in hotels and hotels with the expensive interior furnishing.
Main advantages:
Fire-safety – nowadays it is the only one tactile product at the market, complying with all fire safety standards;
Increased wear resistance at the facilities with high passability;
Universal and operable installation (the product is mounted with screw anchors or an adhesive), without demounting of the old flooring;
Aesthetic design. Metal tactile paving has a high quality polished coating, making an aesthetic interior;
Tactile paving can be mounted inside and outside of the building
Qualitative tactile effect – the best tactile rise is selected on paving for the blind, visually impaired people and wheel chair users, without making their movement difficult;
Metal tactile paving can be fixed in two ways:
Spinning with 4 screw anchors or self-scrapping screws (aren't included into a delivery set).
Sticking to a mounting plate (delivered separately) with a special double-sided tape or adhesive (delivered separately).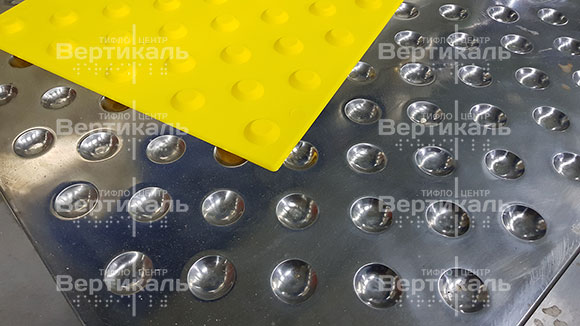 A wide range of our tactile goods makes possible to select paving for various operating conditions and for any type of interior. All models of tactile paving from Tiflocentre Vertical have been tested by the blind specialists.