Guide tactile tape
A guide tactile tape has clearly defined tactile and visual signs (tactile indicators), intended to indicate movement routes for visually impaired people. Depending on marking peculiarities Tiflocentre Vertical manufactures several kinds of tactile tape. When buying a tactile tape, one should pay attention to the following operating conditions: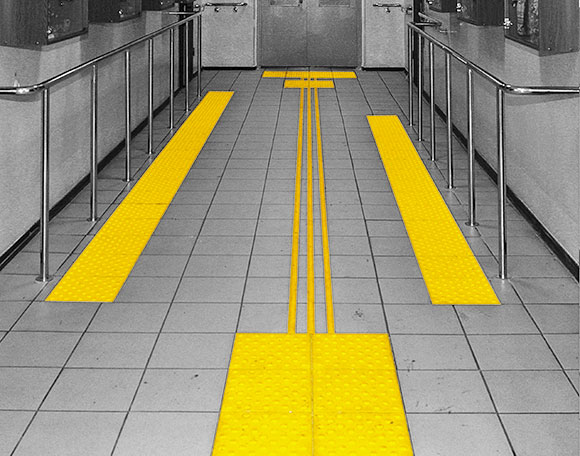 Contrast color to the underlying surface: yellow if the surface is dark, and black – if it is light;
Passability. Depending on the passability, it's recommended to apply different types of tactile marking. As it's recommended to use tactile tapes with an adhesive base, being 29-50 mm wide, for rooms with medium passability and for the ones with high passability – tactile tapes in aluminum casing should be used;
Easy and qualitative mounting. An important condition for the selection of the right type of a tactile indicator is the price. Thus, mounting of a tactile tape with the self-adhesive surface reduces the costs on application works without drilling. However, mounting of the tactile tape in aluminum casing guarantees durable fixation;

Tactile tape for rooms with medium passability;
Tactile PU tape is used for marking of the tactile routes in buildings with small passability. It has an advantage of easy mounting and an accessible price.
Tactile tape for rooms with medium and high passability.
We recommend using PU tactile indicators or tactile tapes in aluminum casing for rooms with high passability.
Mounting of the tactile tape should be performed on dry surface; mounting should be done with an already applied adhesive layer. The tape in aluminum casing may be mounted with FIXVERT adhesive systems as well as with the screws.